EuroMillions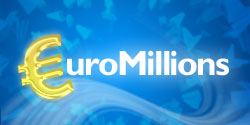 EuroMillions is the largest pan-European lottery game and was launched in France, Spain and the UK on 7th February 2004. Austria, Belgium, Ireland, Luxembourg, Portugal and Switzerland joined soon after in October of that same year.
Every EuroMillions draw has 13 prize tiers, with the jackpot worth a minimum of €15 million (£10 million based on the current exchange rate). The jackpot rolls over every time there is no top tier winner up to a maximum prize of €190 million (approximately £137 million at current exchange rates).
EuroMillions Results
EuroMillions draws take place every Tuesday and Friday at 20.30 GMT (21.30 CET) in Paris, France. Two separate machines are used, the first drawing five numbers from 1 to 50 and the second drawing two numbers, known as Lucky Stars, from 1 to 11. EuroMillions results are published online as soon as the draws have taken place, with the complete prize breakdown released slightly later once prizes and winners have been approved, calculated and verified.
Latest EuroMillions Result
Tuesday
13th October 2015
There were over 1,590,000 prize winners in this draw.
Don't forget to check your Millionaire Maker numbers!

Millionaire Maker Result & Draw Details
Playing EuroMillions
EuroMillions requires you to select five main numbers between 1 and 50 and two Lucky Stars from 1 to 11. If you are struggling to make a decision, then the EuroMillions Number Generator will create a totally random selection for you. EuroMillions tickets can be purchased online or from an authorised retailer, though playing online provides the added peace of mind that comes with knowing you can't mislay or damage a virtual ticket. To find out more, visit the how to play EuroMillions page.
EuroMillions Prizes
There are 13 chances to win in every EuroMillions draw, with final values varying based on ticket sales and the number of winners in each prize tier. Prizes are won for matching anything from two main numbers up to the jackpot, which is claimed by matching all five main numbers and both Lucky Stars drawn.
The EuroMillions prize structure is as follows:
| Balls Matched | % Prize Fund* | Odds of Winning | Average Prize Amount Per Draw |
| --- | --- | --- | --- |
| Match 5 + 2 | 32% | 1 in 116,531,800 | £40,790,538.83 |
| 5 + 1 | 4.8% | 1 in 6,473,989 | £303,947.05 |
| 5 + 0 | 1.6% | 1 in 3,236,995 | £50,121.25 |
| 4 + 2 | 0.8% | 1 in 517,920 | £3,382.47 |
| 4 + 1 | 0.7% | 1 in 28,774 | £149.71 |
| 4 + 0 | 0.7% | 1 in 14,387 | £73.93 |
| 3 + 2 | 0.5% | 1 in 11,771 | £45.26 |
| 2 + 2 | 2.3% | 1 in 822 | £14.27 |
| 3 + 1 | 2.2% | 1 in 654 | £10.34 |
| 3 + 0 | 3.7% | 1 in 327 | £8.59 |
| 1 + 2 | 6.5% | 1 in 157 | £7.61 |
| 2 + 1 | 17.6% | 1 in 46 | £5.66 |
| 2 + 0 | 18% | 1 in 23 | £2.84 |
Overall odds of winning any EuroMillions prize are 1 in 13. Data taken from results drawn between 10/05/11 and 14/10/15
*This column shows the percentage of the EuroMillions prize fund allocated to each prize tier. The remaining 8.6% is added to a separate Reserve Fund, which is used to ensure that there is always a guaranteed minimum jackpot of €15 million. EuroMillions occasionally holds special draws, known as Superdraws, with a guaranteed minimum jackpot of €100 million, using surplus funds from the Reserve Fund
EuroMillions Jackpot Cap
EuroMillions has a jackpot cap of €190 million; any prize money from ticket sales that would have boosted it beyond that amount is distributed amongst the players in the next winning prize tier, usually boosting their prizes to seven figures. The top prize can stay at €190 million for one more draw if no one matches all five main numbers and two Lucky Stars. On the first draw at the cap, any excess funds that would normally be added to the jackpot are rolled down and evenly distributed to winners in the next highest prize tier.
On the second draw, the jackpot remains at €190 million and the additional funds that would have been added to the top prize are again shared equally in the next winning prize tier. In addition, if no one wins the jackpot, the players in the next winning prize tier will each receive an equal share of the €190 million jackpot. This creates even more multi-millionaires!
EuroMillions Superdraws
Occasionally EuroMillions announces a Superdraw which brings with it a guaranteed jackpot of €100 million (approximately £72 million based on current exchange rates). These draws only occur occasionally and operate under the same rules as a normal draw, with the only difference being the guaranteed top prize. If no one wins the jackpot on the night of the EuroMillions Superdraw, it will roll over as normal.
Millionaire Maker
All UK EuroMillions players are automatically entered into an additional draw, known as Millionaire Maker, which guarantees a £1 million prize every time it is played. To find out more about this additional draw, visit the Millionaire Maker page.
Mega Friday
In March 2014 the National Lottery Commission sought permission to offer non-cash prizes in special draws. After these changes were approved, the first Mega Friday draw was held on Friday 31st October 2014 and offered 25 lucky winners £1 million in cash as well as a two-week luxury holiday to Makepeace Island in Australia. The game is offered as part of Millionaire Maker and gives players the chance to win amazing luxury prizes in addition to the cash prizes on offer. Visit the Mega Friday page for more information.
Super Raffle
The Super Raffle is reserved for select Millionaire Maker games in which a large number of £1 million prizes will be offered in a single draw. Watch this space, as it will be updated as and when more information is released.
How to Claim
Online Winners (Not Via Direct Debit)
Up to £500
Prizes up to £500 will be paid directly into your National Lottery account.
£501 - £30,000
This will be paid to the debit card associated with your National Lottery account but you need to confirm the payment before it can be issued.
£30,001 - £50,000
If you have won a prize of between £30,001 and £50,000 you must call the National Lottery Customer Care team on 0845 278 8000, quoting your ticket number. You may be asked to claim in person at a Regional Lottery Centre. Winnings will be paid either by cheque or directly into your bank account.
£50,001 and over
If you've won more than £50,000 then you will need to call 0845 278 8000 and speak to the Customer Care team. You will need your ticket number handy. Payment will be made in person after lottery officials have verified that you are indeed a winner. The National Lottery reserves the right to choose whether to issue your prize as a cheque or bank transfer. For players who pay by Direct Debit, prizes of up to £50,000 will usually be directly transferred into the bank or building society account associated with that Direct Debit. For anything larger, you will have to ring the Customer Care Team.
Tickets Bought in Person
Up to £100
Up to £100 can be claimed from any Lotto retailer once they have scanned your ticket to validate your prize. You'll hear a 'win sound' play and be given a win receipt which will tell you exactly the value of your prize.
Over £100 and up to £500
Some Lotto retailers can pay out prizes of up to £500 in cash at their discretion, but they are not obliged to do so. If a retailer cannot pay out your prize you can either return at an agreed time, go to another retailer or visit a designated National Lottery Post Office. However, if the retailer has already validated your ticket, you will have to return to the same establishment when they have the funds available.
Up to £50,000
Winnings of up to £50,000 can be claimed from any designated National Lottery Post Office or Regional Lottery Centre upon presentation of your ticket. You will need to complete a claim form and will receive your winnings by cheque, although Post Offices can issue up to £500 in cash out of any prize won.
Any prize of up to £50,000 can also be claimed by post. Players are advised to put their name and address on the back of the ticket and must complete a claim form for prizes over £500.
The postal address is:
The National Lottery
Accounts Department
PO Box 287
Watford
WD18 9TT
Over £50,000
Winnings above £50,000 must be claimed by contacting the National Lottery directly. You will need to raise a claim via telephone on 0845 9 100 000. Prizes will then be received at an agreed location after completion of a Claim Form and provision of a suitable proof of identity.
Methods of claiming non-cash prizes, such as those awarded on Mega Friday draws, will be detailed in the specific rules created for the individual draw.
EuroMillions Winners
Millions of players become winners of cash amounts in every EuroMillions draw, but the jackpot has only been won at its €190 million cap twice. A Portuguese player won that amount in October 2014, whilst Adrian and Gillian Bayford won it in August 2012. The Bayfords' jackpot was worth £146 million, but that was not the largest sterling amount awarded by EuroMillions, as Chris and Colin Weir won €185 million in July 2011, which was converted to £161 million at the time due to the fluctuating exchange rate.
UK Good Causes
28p of every £1, or 56p from every line played, is donated directly to the National Lottery's Good Causes Fund. This fund pools the charitable proceeds from every National Lottery game and channels the money into many schemes and projects designed to support and benefit a variety of initiatives across the UK.