EuroMillions
EuroMillions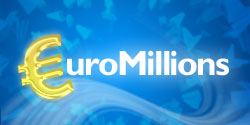 EuroMillions is the largest pan-European lottery game and was launched on 7th February, 2004. The game is played in the UK, France, Spain, Austria, Belgium, Ireland, Luxembourg, Portugal and Switzerland.
Every EuroMillions draw has 13 prize tiers, with a jackpot worth at least €17 million (sterling value varies based on the current exchange rate). The jackpot rolls over every time there is no top-tier winner up to a maximum prize of €190 million.
Don't delay
Tuesday's Estimated Jackpot
£71 Million


Time left to choose numbers:
EuroMillions draws take place every Tuesday and Friday at 20.30 GMT (21.30 CET) in Paris, France. Find out the latest EuroMillions results and prize breakdowns here.
Playing EuroMillions couldn't be easier. Simply pick five numbers from 1 to 50 and two Lucky Stars from 1 to 12. Find out how to play here.
With overall odds of 1 in 13 for winning any EuroMillions prize, millions of players win prizes in every draw. See the odds of winning for each tier here.
Find out about recent changes to EuroMillions and any news about upcoming changes, including new games and ways to win big prizes.
Find out the most common numbers, the most overdue numbers and EuroMillions jackpot amounts from the past 180 days and more.
Learn more about this special supplementary game for UK EuroMillions players in which two ticket holders are guaranteed to win £1 million each.
Mega Week is a promotion which provides UK ticket holders with the chance to play for even greater prizes and luxury experiences.
If you're lucky enough to win a EuroMillions prize, the next step is to get your hands on the money. Find out how to claim a prize here.
The EuroMillions jackpot cap sets the maximum value of the top prize at €190 million. Find out more about how it works.
Superdraws are held a few times a year and offer massive guaranteed jackpots. Learn more about these exciting EuroMillions draws here.
There are 13 EuroMillions prize tiers, offering cash amounts ranging from a couple of pounds to nine-figure fortunes. Learn all about the prize structure here.
EuroMillions players have been winning huge prizes since the game began in 2004. Find out more about the biggest UK EuroMillions winners on this page.
Read about the most interesting events in the history of EuroMillions since the first draw on 13th February, 2004.
Read all about this special raffle which is held across all nine participating countries to create multiple guaranteed millionaires.