Thunderball
Thunderball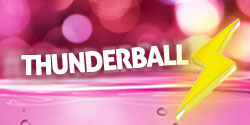 Thunderball is drawn three times a week on Wednesdays, Fridays and Saturdays. The game offers players the chance to win a top prize of £500,000 every time, no matter how many players match the jackpot. Prize amounts will only ever be less than advertised if awards payable in any Thunderball draw are more than four times the value of the entries. You can purchase tickets for Thunderball online or at authorised National Lottery retailers up until 7:30pm on the day of the draw.
Players pay £1 per entry, picking five main numbers from 1 to 39 plus one Thunderball from 1 to 14. You can win £3 by matching just the Thunderball, with the value of other prizes increasing as you match more balls. To win the top prize, you must match all five main numbers and the Thunderball. The overall chance of winning a prize in Thunderball is one in 13.
Latest Thunderball Result
Saturday
21st October 2017
There were over 250,000 prize winners in this Thunderball
draw. Click to find out more

View the Thunderball Prize Breakdown
Thunderball Odds
Balls Matched
Prize
Odds of Winning
Match 5 + Thunderball
£500,000
1 in 8,060,598
Match 5
£5,000
1 in 620,046
Match 4 + Thunderball
£250
1 in 47,416
Match 4
£100
1 in 3,648
Match 3 + Thunderball
£20
1 in 1,437
Match 3
£10
1 in 111
Match 2 + Thunderball
£10
1 in 135
Match 1 + Thunderball
£5
1 in 35
Match Thunderball
£3
1 in 29
Approx. Overall Odds of Winning:
1 in 12
Players can choose to pay for up to eight weeks of draws in advance, whether buying Thunderball tickets online or from an authorised retailer. You can also choose to play by Direct Debit. If you have played online, then you will be notified by email if you win, but if you bought a physical ticket you need to check using the Thunderball Checker.
Changes were made to the way that Thunderball was played on 9th May 2010, when the main number pool was expanded to 39. The new system included the creation of a prize tier for matching just the Thunderball and the value of the jackpot was raised from £250,000 to £500,000. To see a timeline of Thunderball visit the Thunderball history page.