Thunderball
Thunderball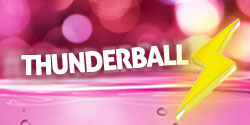 Thunderball is drawn three times a week on Wednesdays, Fridays and Saturdays. The game offers players the chance to win a top prize of £500,000 every time, no matter how many players match the jackpot. Prize amounts will only ever be less than advertised if awards payable in any Thunderball draw are more than four times the value of the entries. You can purchase tickets for Thunderball online or at authorised National Lottery retailers up until 7:30pm on the day of the draw.
The Thunderball game is set to introduce a Tuesday draw on 30th January 2018, offering players an extra chance to win up to £500K each week! Learn more about the upcoming
National Lottery changes
.
The latest Thunderball results are released here as soon as the draw has taken place every Wednesday, Friday and Saturday. Click here for recent results and prize breakdowns.
Draws take place every Wednesday, Friday and Saturday, where players can win a prize for matching the Thunderball. Find out how to play here.
Discover the full odds of winning for each Thunderball prize tier along with maximum, minimum and average winners for each prize.
Thunderball began in June 1999; find out about past changes to the game.
Find out more about what Good Causes have benefitted from the National Lottery and what organisations distribute funding.