Lotto HotPicks
Hotpicks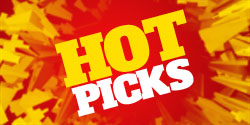 Lotto HotPicks is a supplementary Lotto game that uses the numbers from the regular Lotto draw. Players must declare how many balls they intend to match in order to win; the greater the number, the bigger the potential prize. Cautious players who successfully match one ball win £6, whereas more daring ticket holders who correctly match five balls win the top prize of £350,000. Players do not have to enter the main Lotto draw in order to play Lotto HotPicks. To view the latest results, visit the Lotto HotPicks Results page.
Since January 2018, EuroMillions also offers a HotPicks game. Find out more about EuroMillions HotPicks here.
Latest Lotto HotPicks Result
Wednesday
18th April 2018
There were over
7,600
prize winners in this
Lotto HotPicks draw. Click the button to find out more

View the Prize Breakdown for this Draw
Choosing Your Lotto HotPicks Numbers
Lotto HotPicks costs £1 per game and players must decide which game they would like to play (Pick 1, Pick 2, Pick 3, Pick 4 or Pick 5). If they fail to match the exact amount of balls that they declared, they do not win a prize. For example, if you bought a Pick 3 game and only matched two of the Lotto numbers drawn, you would not win £60 (the prize for picking and matching two numbers).
How to Win on HotPicks
Here's a breakdown of potential prizes and odds of winning when playing Lotto HotPicks:
| Game | You Match | You Win | Odds |
| --- | --- | --- | --- |
| Pick 1 | 1 number | £6 | 1 in 10 |
| Pick 2 | 2 numbers | £60 | 1 in 115 |
| Pick 3 | 3 numbers | £800 | 1 in 1,626 |
| Pick 4 | 4 numbers | £13,000 | 1 in 30,342 |
| Pick 5 | 5 numbers | £350,000 | 1 in 834,398 |