Millionaire Maker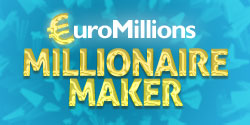 The Millionaire Maker can only be played by those who are buying EuroMillions tickets in the UK. Millionaire Maker can best be viewed as a bonus game, with one free entry into the Millionaire Maker being allocated to the player for every line of numbers that they enter into a EuroMillions draw. The cost of EuroMillions tickets in the UK is slightly higher than it is in other countries because of the free Millionaire Maker entry that accompanies each, but the big advantage is that the Millionaire Maker game is guaranteed to produce two new millionaires each and every week.
Millionaire Maker - Results
A separate Millionaire Maker draw is held immediately before the EuroMillions draw every Tuesday and Friday evening. If the Millionaire Maker number on your ticket matches the number that is drawn then you win the £1 million prize. Of course, your ticket will still be valid for the EuroMillions game regardless of whether or not you win the Millionaire Maker. Results of the Millionaire Maker game can be found our Lottery Results page which also provides results for the main EuroMillions draw and other popular UK lottery games.
Millionaire Maker
In October 2014 Millionaire Raffle was renamed Millionaire Maker at the same time as changes were made to the game's prize pot. A request for the name change had been sought in March 2014 when the National Lottery had also asked for permission to offer non-cash prizes. As part of the changes, the non-cash prizes are given away on the last Friday of each month, known as Mega Friday, providing an exciting new angle for players. Millionaire Maker shouldn't be confused with Christmas Millionaire Maker which was a special draw held every Christmas by the National Lottery in which players matched years rather than numbers on balls.
How to Play Millionaire Maker
For every line of EuroMillions numbers that you purchase, a random Millionaire Maker number will be generated automatically on your behalf. Each Millionaire Maker number consists of three letters and six numbers and, if it matches the code that is drawn, you win! If you are particularly lucky you could bag a prize on the main EuroMillions game too, there's absolutely nothing to stop you winning on both!
Your odds of winning Millionaire Maker are entirely dependent on how many other ticket holders there are for a specific draw. Every player in the UK has an entry and one ticket has to win. For a Tuesday draw with the minimum jackpot there are expected to be roughly 4.8 million players which would give you odds of 1 in 4.8 million. For a Friday draw with a big jackpot and higher quantities of sales, your odds lengthen.
If you played EuroMillions online then you will be emailed to inform you of any win that you are due. If you're impatient or you bought your tickets from an authorised retailer you can always visit the EuroMillions Results page now to find out whether you're a winner and start the celebrations immediately!
Millionaire Maker – Key Facts
The first ever draw, under the old name of Millionaire Raffle, took place on Friday 13 November, 2009. Millionaire Maker is exclusively played by EuroMillions ticket holders in the UK and is included in the price of the regular EuroMillions ticket giving two opportunities to win a huge prize, neither game can be played separately.
Mega Friday
Mega Friday is the name given to a special draw in which Millionaire Maker offers luxury non-cash prizes in addition to the usual £1 million. The first Mega Friday draw will take place on Friday 31st October, with 25 holidays to Makepeace Island on Australia's Sunshine Coast up for grabs. Winners will be provided with business class flights, helicopter transfers, all of their meals and £50 a day for drinks each, plus they can invite up to seven guests! Future Mega Fridays may feature other great luxury prizes. This is an exciting update to EuroMillions, so players are advised to watch this space for more details as and when they are announced. For more information visit the Mega Friday page.
100 Millionaires Draws
On Friday 26th July 2013 the EuroMillions 100 Millionaires Raffle returned for a second time. First held on the day of the olympic opening ceremony in 2012, this special euromillions draw set the world record for the most amount of millionaire winners created in a single lottery draw.