Millionaire Maker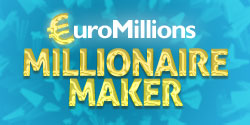 Millionaire Maker is a supplementary game into which anyone who buys a EuroMillions ticket in the UK is entered. The game guarantees to make at least two millionaires every week, with more prizes being given away on the last Friday of every month as well as on other special occasions.
In October 2014 Millionaire Raffle was renamed Millionaire Maker at the same time as changes were made to the game's prize pot. A request for the name change had been sought in March 2014 when the lottery operator had also asked for permission to offer non-cash prizes. As part of the changes, the non-cash prizes are given away on the last Friday of each month, known as Mega Friday, providing an exciting new angle for players.
Millionaire Maker Results
A winning Millionaire Maker code is generated on EuroMillions draw nights from all those entered. The results appear on the Lottery Results page alongside those from the main EuroMillions game, soon after the draws take place.
How to Play Millionaire Maker
For every line of EuroMillions numbers that you purchase, a random Millionaire Maker number will be generated automatically on your behalf. Each Millionaire Maker number consists of three letters and six numbers and you win the prize if it matches the code drawn. Millionaire Maker is completely separate from EuroMillions, so it is possible to win on both games on the same night.
If you played EuroMillions online then you will be emailed to inform you of any win that you are due. If you wish to find out sooner or you bought your tickets from an authorised retailer you can always visit the EuroMillions Results page now to find out whether you are a winner.
How Millionaire Maker Works
Millionaire Maker works just like a traditional raffle, with every ticket bought having an equal chance of being a winner. A unique code is generated for each entry and the numbers go up incrementally. For example, if one ticket has a code of BBB000001, the next ticket bought will be BBB000002.
Every code generated for an upcoming draw will be entered into an Automated Draw Machine (ADM), which is a computerised way of searching randomly through all the tickets and has been subjected to thorough testing. The winning code selected by the ADM will promptly be verified and just one player will have a matching ticket, instantly making them £1 million richer.
The serial numbers to be generated will change incrementally from one draw to the next, meaning that if codes begin with the letter B for one game, they are likely to start with the letter C in the following draw. However, the system will recognise tickets that have been bought for multiple draws and such codes will be included in all of the games covered by the ticket. It is for this reason that a list of previous Millionaire Maker winning codes may not run in sequential order.
Your odds of winning Millionaire Maker are entirely dependent on how many other ticket holders there are in a specific draw, but the following table can serve as a guide.
Odds of Winning Millionaire Maker
| Draw Date/Type | Odds of Winning |
| --- | --- |
| Tuesday - EuroMillions Base Draw | 1 in 4.8 million |
| Friday - EuroMillions Base Draw | 1 in 7.5 million |
| Tuesday - EuroMillions Fourth Rollover | 1 in 5.4 million |
| Friday - EuroMillions Fourth Rollover | 1 in 8.7 million |
*Odds are based on expected sales of UK Millionaire Maker entries and will vary depending on the number of EuroMillions tickets bought for a draw.
Millionaire Maker - Key Facts
The first ever draw, under the old name of Millionaire Raffle, took place on Friday 13th November 2009. Millionaire Maker is exclusively played by EuroMillions ticket holders in the UK and is included in the price of the regular EuroMillions ticket, giving two opportunities to win a huge prize. Neither game can be played separately from the other.
Mega Friday
Mega Friday is the name given to a special draw in which Millionaire Maker offers luxury non-cash prizes in addition to the usual £1 million. The first Mega Friday draw took place on Friday 31st October 2014, with 25 holidays to Makepeace Island on Australia's Sunshine Coast given away. Visit the Mega Friday page for details of all the non-cash prizes to have been won and find out what the next exciting monthly reward will be.
100 Millionaires Draws
On Friday 26th July 2013 the EuroMillions 100 Millionaires Raffle returned for a second time. First held on the day of the Olympic opening ceremony in 2012, this special Euromillions draw set the world record for the most amount of millionaire winners created in a single lottery draw.