Lotto
Lotto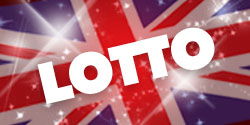 As the leading UK-based lottery game, Lotto attracts millions of players every week and hands out hundreds of thousands of prizes in every draw. Lotto launched on Saturday 19th November 1994, under its original name of the National Lottery, and was introduced to help raise money for good causes throughout the country.
It's a DOUBLE Rollover!
Wednesday's Estimated Jackpot
£6,400,000


Time left to choose numbers:
Lotto draws take place every Wednesday at 8pm and every Saturday at 8:30pm. Find the latest Lotto results and prizes breakdowns here.
Lotto is a simple and fun game to play. Take part by choosing six numbers from a pool of 1 to 59. Discover more details here.
Lotto Millionaire Raffle is an exciting supplementary game that guarantees one £1 million winner and 20 prizes of £20,000 in every draw. Learn more here.
Discover the full odds of winning for each Lotto prize tier, along with maximum, minimum and average prize amounts.
The current Lotto jackpot cap is £22 million. Learn about how prizes are distributed when the cap is hit and how often it happens.
Lotto HotPicks lets you decide how many numbers you want to match, from 1 to 5, for a chance to win up to £350,000. Find out more about this game here.
Lotto balls come in six different colours. Find out about how the statistics surrounding the colours can affect how some players choose their numbers.
In October 2015, the Lotto game received some alterations which brought exciting changes to the prize tiers, jackpots and raffle draw.
Money raised from the sale of Lotto tickets is used to support good causes across the UK. Find out how you and Lotto help local communities.
Since its debut in November 1994, Lotto has gone through a number of changes. Discover how the game has evolved and read about its milestones.
Matched five of the six numbers in the main Lotto draw? Find out how the Bonus Ball could help significantly increase your winnings.