Lotto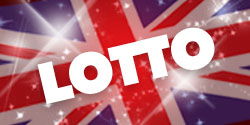 As the leading UK-based lottery game, Lotto attracts millions of players every week and hands out hundreds of thousands of prizes in every draw. Lotto launched on Saturday 19th November 1994, under its original name of The National Lottery. It was introduced by the government of Prime Minister John Major, with a primary objective to raise money for good causes, and was rebranded to Lotto in 2002.
Lotto Results
Lotto draws take place every Wednesday and Saturday, with the weekend Lotto draw screened on BBC One and the midweek Lotto draw available to view online via the BBC iPlayer and other media outlets.
Lottery.co.uk provides the results and full prize breakdown of the latest Lotto results as well as previous Lotto results so players can check both old and new tickets.
Latest Lotto Result
Saturday
28th November 2015
There were
21
Lotto Raffle results and over 1,800,000
prize winners in this draw. Click to find out more

View the Raffle Results & Prize Breakdown
Playing Lotto
Playing Lotto requires you to choose six numbers between 1 and 59, which can be randomly selected for you via a Lucky Dip if you would prefer. Lotto tickets can be purchased online or in person from an authorised retailer, and you can get more in-depth information about buying Lotto tickets on the how to play Lotto page.
Lotto Prizes
Lotto prizes are awarded for matching as few as two main numbers and, with the exception of the lowest two prize tiers, are calculated on a pari-mutuel basis. This means that each tier is allocated a set percentage of the prize fund which is then shared between all of the winners in that prize tier. The overall odds of winning a prize on Lotto are 1 in 9.3.
The table below shows the prize categories, the odds of winning and the estimated prize values.
| Prize Category | Approximate Odds of Winning | Prize Value |
| --- | --- | --- |
| Match 6 (Jackpot) | 1 in 45,057,474 | Jackpot |
| Match 5 + Bonus Ball | 1 in 7,509,579 | Estimated £50,000 |
| Match 5 | 1 in 144,415 | Estimated £1,000 |
| Match 4 | 1 in 2,180 | Estimated £100 |
| Match 3 | 1 in 97 | £25 |
| Match 2 | 1 in 10.3 | Free Lotto Lucky Dip Ticket |
Visit the Lotto Millionaire Raffle page to find out more about the supplementary game in which one player is guaranteed to win £1 million and 20 others are awarded £20,000 each in every draw.
How to Claim
How you can claim a UK Lotto Prize will vary depending upon how you purchased your ticket and the value of the prize you have won.
Online (Not Direct Debit)
All Lotto prizes are valid for 180 days and awards not claimed by the deadline will be donated to the National Lottery Good Causes fund along with the interest they have accrued.
Up to £500
Prizes up to £500 will be paid directly into your National Lottery account.
£501 - £30,000
Prizes will be transferred to your bank account via the debit card associated with your National Lottery account, but you need to confirm the payment before it can be issued.
£30,001 - £50,000
These prizes must be claimed by calling the National Lottery Customer Care team on 0845 278 8000, quoting your ticket number. Winnings will be usually paid by cheque.
Over £50,000
If you are lucky enough to have won more than £50,000, then you will need to call 0845 278 8000 and speak to the Customer Care team. Make sure that you have your ticket number handy. Once your claim is verified, Camelot will help you start the claims process in person.
Online (Via Direct Debit)
Up to £50,000
If you play via Direct Debit and win a prize worth up to £50,000, your winnings will be paid into the bank or building society account you use for said Direct Debit.
Over £50,000
If you play via Direct Debit and win more than £50,000, you will need to call the Customer Care team at 0845 278 8000.
In-Store
Tickets purchased in-store can be claimed in-person from an authorised retailer, but the value of your win will dictate where you can claim your prize. Every National Lottery retailer is equipped to award prizes of up to £100, but some retailers may not be financially prepared to award larger prizes.
Selected retailers can pay prizes of between £100 and £500, although this is entirely at their own discretion. If you believe your prize is worth over £100, it is worth checking with the retailer whether they have sufficient funds available to pay your prize before they validate your ticket. If your ticket has been validated in a store but the retailer does not have available funds to pay your prize, you must return to that same retailer when funds are available. However, if your ticket has not been validated by a particular store, you can go to a different retailer or visit a National Lottery-authorised Post Office.
National Lottery-authorised Post Offices can pay out any prizes of up to £50,000, although players who have won more than £500 will be required to complete a prize claim form. The maximum cash pay-out is £500 and any wins over this value will be paid via cheque.
Wins worth more than £50,000 can only be claimed in person at an agreed location and this may be your home, place of work or regional lottery centre. Payment will be made via a cheque or bank transfer and the winner will be required to provide both a completed claim form and proof of identity. You will need to call Camelot on 0845 9 100 000 to arrange the meeting.
By Post
Wins of up to £50,000 can be claimed by post, although the National Lottery does not accept any responsibility for tickets that may be lost, damaged or stolen in the post. Simply send your winning ticket to:
The National Lottery
Accounts Dept.
PO Box 287
Watford
WD18 9TT
Claims over £500 must be accompanied by a completed prize claim form. Claim forms are available from National Lottery retailers or by contacting the National Lottery Help Line on 0845 9 100 000.
Lotto Winners
Lotto was the first national lottery game in the UK to offer players the chance of winning multimillion-pound prizes, and 20 years on Lotto still boasts jumbo jackpots and awards hundreds of thousands of prizes every week.
The largest jackpot ever won in a Lotto draw was worth an impressive £42 million and was shared between three players on 6th January 1996. The winning trio chose to remain anonymous and each of them collected a £14 million share of the top prize.