Lotto Raffle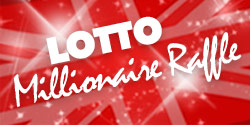 Lotto Raffle is a supplementary game to the main UK Lotto and guarantees 50 £20,000 prizes in every draw. Entry to Lotto Raffle is included in the price of a Lotto ticket and a randomly generated raffle code is included for each line of numbers purchased for the main game. It's a great supplementary game that gives players another chance to win big even if their main Lotto numbers don't match. The most recent results for the game can be found on the Lotto Raffle Results page.
Latest Lotto Raffle Result
Play Lotto Raffle
In order to win a £20,000 prize, you must match the code on your ticket to one of the 50 drawn in the raffle. Each code consists of a four-digit colour (such as "GOLD" or "GREY") and an eight-digit number. It's possible to win on both games if you're really lucky! To find out more about playing the main game, have a look at the UK Lotto page.
There are 50 winning Lotto Raffle codes with every standard UK Lotto draw. Previously, the number of Lotto Raffle prizes offered increased by 50 each time the main draw jackpot rolled, up to a maximum of 250. On 22nd November 2014, the rules changed to limit the number of Raffle prizes on offer to 50 for all draws.
This allows Lotto to offer special draws featuring an increased number of winning Lotto Raffle codes, prizes of greater value or sometimes both! When Lotto Raffle launched in October 2013, players had the chance to win one of the 1,000 prizes of £20,000 on offer. To mark the 20th anniversary of UK Lotto in November 2014, there were an additional 20 Lotto Raffle prizes of £1 million alongside the usual 50 £20,000 awards.