Lotto Millionaire Raffle
Lotto Millionaire Raffle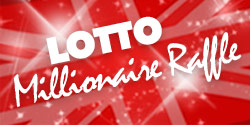 Lotto Millionaire Raffle is a supplementary game to Lotto and guarantees one £1 million prize and 20 prizes of £20,000 in every draw. It replaced Lotto Raffle in October 2015, when it was introduced alongside a number of other changes to Lotto.
Entry to Lotto Millionaire Raffle is included in the price of a Lotto ticket and a randomly-generated code is included for each line of numbers purchased for the main game. It gives players another chance to become a millionaire even if their main Lotto numbers donít win a prize. The most recent results for the game can be found on the Lotto Millionaire Raffle Results page.
Latest Lotto Millionaire Raffle Result
Play Lotto Millionaire Raffle
In order to win £1 million, you must match the code on your ticket to the one drawn for the top-tier Lotto Millionaire Raffle prize. A further 20 codes are then drawn to find 20 winners of £20,000. Each raffle code consists of a four-digit colour (such as "GOLD" or "GREY") and an eight-digit number, such as "1234 5678".
In total there are 12 raffle colours used in Lotto:
As raffle codes all have an equal chance of winning irrelevant of the colour or eight-digit number, it is possible that not all colours are drawn in a result.
There is one prize worth £1 million and 20 prizes of £20,000 awarded in each standard Lotto draw. Occasionally, there will be more prizes created to commemorate special events, including the 25 £1 million awards given away on Saturday 10th October 2015 to coincide with the launch of Lotto Millionaire Raffle.
Millionaire Raffle Odds
| Draw Day | Odds of Winning |
| --- | --- |
| Wednesday Lotto Draw | 1 in 338,000 (based on estimated 7.1 million Lotto tickets sold) |
| Saturday Lotto Draw | 1 in 686,000 (based on estimated 14.4 million Lotto tickets sold) |