Lotto Must Be Won Draws
Must Be Won Draws
Lotto Must Be Won draws guarantee that the jackpot prize money will be given away, boosting the payouts for thousands of winners and making for some exciting draws. Find out all about Must Be Won draws and Rolldowns on this page.
What is a Must Be Won draw?
A Must Be Won draw occurs after the Lotto jackpot has not been won for five consecutive draws. In the sixth draw – which is the Must Be Won draw - the jackpot prize money has to be won, even if no one matches all six winning numbers.
If at least one player does match six numbers in a Must Be Won draw, they will win the jackpot just like in any standard draw. If no one manages to match six numbers, however, the jackpot prize money will be shared between all the other players who match three or more numbers, in what is known as a 'Rolldown.'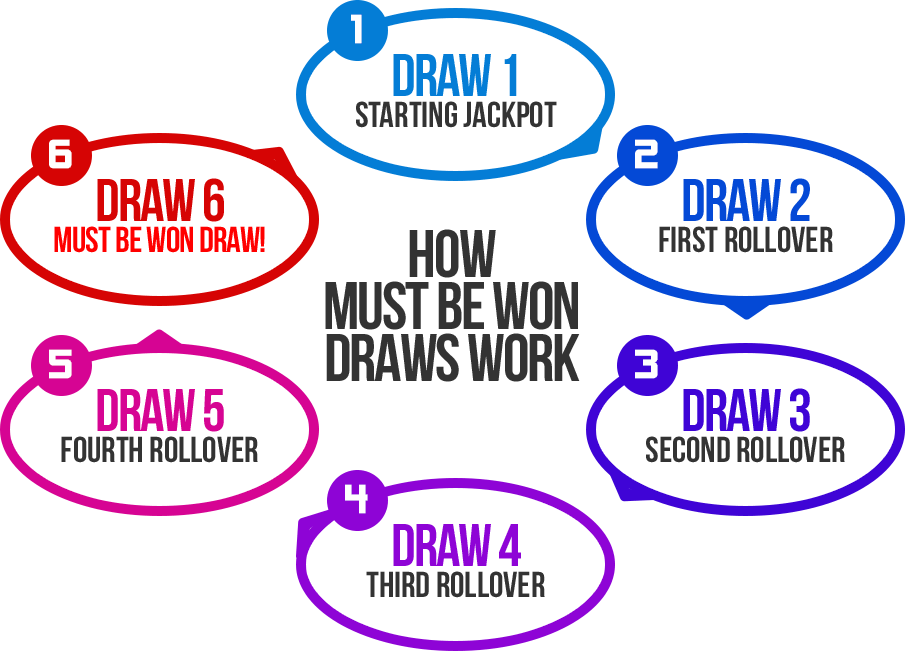 After a Must Be Won draw, the Lotto jackpot always resets to its starting value of £2 million for a Wednesday draw or £3.8 million for a Saturday draw.
Rolldown Prizes
If a Rolldown occurs, the jackpot prize money is split between all other cash winners according to certain percentages.
Game Changes – New Match 2 Prize Coming Soon
From Saturday 7th November 2020, when a rolldown occurs in a Lotto Must Be Won draw, any Match 2 winners will receive an extra £5 cash prize on top of the usual free Lucky Dip.
Find out more.
The following table shows the percentage of the jackpot that will be allocated to each prize category if no tickets match all six main numbers in a Must Be Won draw. You can also see the most recent Rolldown prize amounts:
| Prize Tier | Percentage of Jackpot | Regular Fixed Prizes | *Rolldown Prizes (05/09/2020) |
| --- | --- | --- | --- |
| Match 5 + Bonus | 3% | £1 million | £1,200,000 |
| Match 5 | 6% | £1,750 | £10,260 |
| Match 4 | 17% | £140 | £525 |
| Match 3 | 74% | £30 | £108 |
There are usually many winners in the Match 3 prize tier so in a Rolldown the majority of the jackpot prize money is allocated to that tier, in order to provide a significant boost to every winner's payout. The Match 5 tier benefits from the biggest proportional increase, as on average players can expect their payout to be boosted to around five times its original value.
The biggest cash increase, however, is reserved for players who match five numbers plus the Bonus Ball. On average they will receive around a 20% increase to their prize money, which equates to an additional £200,000 on top of their original £1 million payout.
Previous Lotto Jackpot Caps and Rollover Limits
The current format is just one of many that have been used for Lotto since the game's launch. Must Be Won draws have been used in the past, although with different rules on when they were used, as well as jackpot caps that limit the top prize to a specific value. Here's how the rules around rollovers and the jackpot cap have changed over the years.
November 1994 – National Lottery Launched
When the National Lottery was launched, there was initially a rollover limit in place rather than a jackpot cap. Under the original rules the jackpot could only roll over four times before it had to be won.
Must Be Won draws occurred only a handful of times in the 20 years that the original ruleset was in place. The biggest Rolldown happened in the draw on 17th December 2014, when a jackpot of £15 million was shared between five players who matched five numbers plus the Bonus Ball. They received just over £3 million each.
October 2015 – Jackpot Cap Introduced
Big changes were introduced to Lotto in October 2015, including the addition of 10 extra numbers and a new jackpot cap of £50 million. The cap replaced the previous limit of four rollovers and rules stated that the jackpot could roll over any number of times until someone won it or it surpassed the £50 million threshold. Only one more rollover was allowed after the jackpot reached this amount, and then it had to be won.
November 2018 – Launch of Current Must Be Won Format
A five-rollover limit was introduced in November 2018 to ensure the jackpot would be won more regularly, with the new rules marking the first time in National Lottery history that funds would roll down between multiple prize tiers if the jackpot was not won. The National Lottery also began to hold special Must Be Won draws, in which the jackpot would be increased to a guaranteed amount, such as £15 million or £25 million, and the entire amount had to be won in that draw.