National Lottery Results App for iPhone
iPhone App
Download the free Lottery.co.uk Results app and take advantage of a range of useful features. Be the first to get the latest winning numbers and use the app's ticket scanner to check whether you've won. You can even save your favourite numbers to look up in the future.
The app covers all of the UK's favourite lottery games, including Lotto, EuroMillions, Thunderball and the National Lottery's newest draw game – Set For Life. Take a look at all the app's features below and then download it via the App Store.
These are just some of the useful features you will find in Lottery.co.uk's Results app. Download it via the App Store to see all of its other features, including number generators that could help you create your next winning line, and prize breakdowns for every lottery draw. If you're already a step ahead and you've downloaded the app, get started with the iPhone help guide or find out how to set up your lottery alerts.
Other iPhone Apps
If you also play the Health Lottery or the Irish Lotto games, you can download our dedicated apps for these lotteries using the links below. Or, if you fancy a bit of mobile gaming, why not give our Lottery Games Casino app a try?
Health Lottery
Find out all the latest information about the four Health Lottery draws a week with this handy app, which features results for every draw since the lottery's inception, a ticket checker and a random number generator to create that perfect line to help you win up to £100,000.
Irish Lotto

The free Irish Lottery app is perfect for you if you take part in this fun game. Find out the results and full prize breakdown from each of the last five draws and the winning numbers from every draw in the history of the game. There is also a handy ticket checker and a random number generator.
Casino Games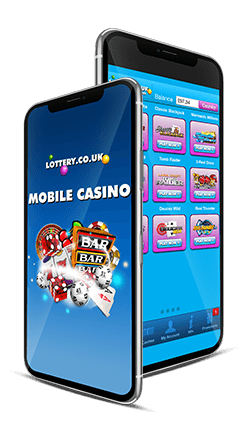 Access some of the finest casino games wherever you go courtesy of the Lottery.co.uk Casino app. You could be winning big on blackjack, experiencing the excitement of roulette and sampling your favourite slots games on the bus, from or even at the gym.