Lottery Alerts
Lottery Alerts
The Lottery.co.uk iPhone app allows you to set up custom lottery notifications for Lotto, EuroMillions, Thunderball and Set For Life, so you can always stay up to date with the latest results, rollovers, special events and Superdraws, no matter where you are. Unlike some other email and text alerts, you are in complete control of which information you want to receive, and how often.
How to Set Up a Lottery Notification
Once you have downloaded the Lottery.co.uk app, just follow these simple steps to set up your chosen alerts: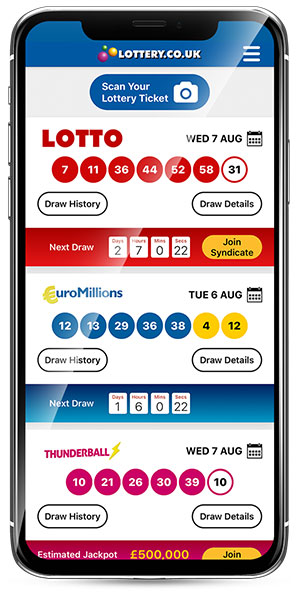 Tap the menu button (the three horizontal lines) at the top of the screen.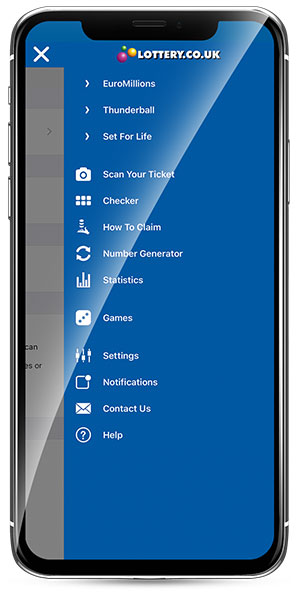 Select 'Notifications' from the menu.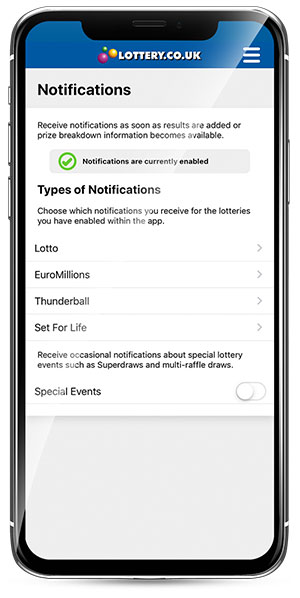 Select the lottery you would like to set up alerts for, or whether you want an alert for special events.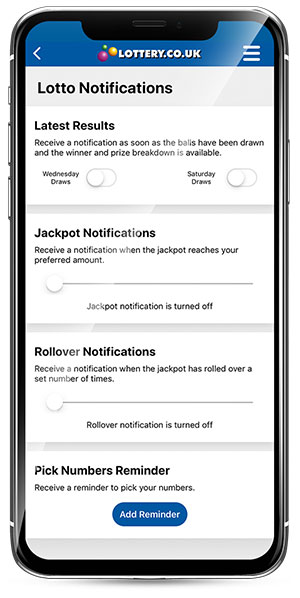 In your chosen lottery's sub-menu, turn on the alerts you would like to receive.
Your alerts for each lottery are completely customisable, with a range of five notification types to choose from. Here are the kinds of alert you can expect to use:
Latest Results
Receive notifications as soon as the winning numbers are available, and also when prize breakdowns have been updated to show prize amounts and the number of winners. You can choose which draws you receive notifications for; for example, if you only play EuroMillions on Fridays, you can turn off notifications for Tuesday draws.
Jackpot Notifications
Looking to win big? You can set a minimum jackpot limit and you will receive a reminder any time the top prize reaches your preferred amount. For example, the app can let you know whenever the Lotto jackpot is above £10 million.
Rollover Updates
Similar to Jackpot Notifications, this allows you to set up an alert for when a lottery has gone a set number of draws without a win. You could choose to be notified every time Lotto reaches five rollovers and a 'Must Be Won' draw.
Reminder to Pick Numbers
You can set a reminder for you to pick your numbers ahead of a draw, to make sure you never miss out on winning a prize. Select the days and times you would like to be reminded each week.
Special Events
Accessible from the main Notifications menu, the Special Events alert will notify you whenever a special draw is scheduled, whether a EuroMillions Superdraw or a one-off Lotto event.
For more details on using other features within the Lottery Results app, visit the iPhone Help page.