Lottery Alerts
Lottery Alerts
The Lottery.co.uk iPhone app allows you to set up custom lottery notifications for Lotto, EuroMillions, Thunderball and Lotto HotPicks so you can always stay up to date with the latest results, rollovers, special events and Superdraws, no matter where you are! Unlike with some email and text alerts you are in complete control of which information you want to receive and how often.
How to Set Up a Lottery Notification
Once you have downloaded the Lottery.co.uk app, just follow these four simple steps to set up your chosen alerts: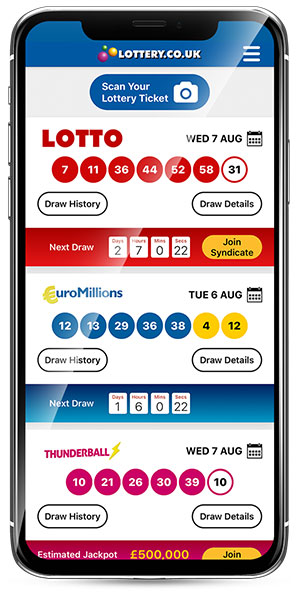 Start by tapping the 'More' button on the bottom menu.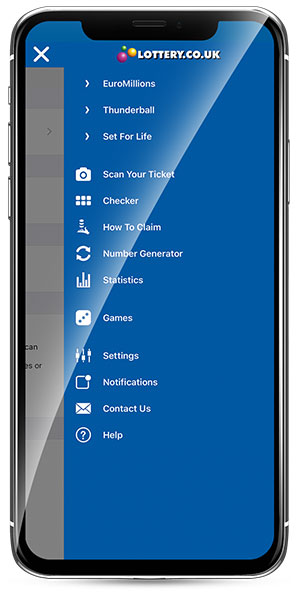 Then select 'Notifications'.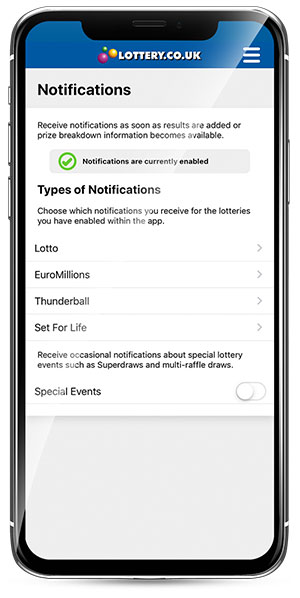 From there, choose the lottery you are interested in.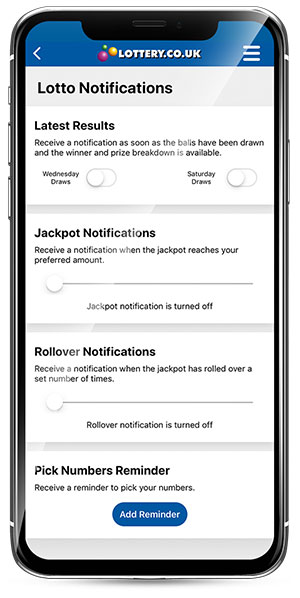 Finally, turn on the alerts you would like to receive.
There are five types of notifications for you to choose from, so there's something to meet all of your lottery needs:
Latest Results
Receive notifications as soon as the winning numbers are available, and when the prize breakdown has been updated to reveal the prize amounts and number of winners. You can control when you receive these, so if you only play EuroMillions on a Friday then you cna turn off any alerts for Tuesday draws.
Jackpot Notifications
Looking to win big? You can set a minimum jackpot limit and you will receive a reminder any time the top prize reaches your preferred amount. For example, the app can let you know whenever the Lotto jackpot is above £10 million.
Rollover Updates
Similarly, you can set up an alert which will let you know if a lottery has gone a set number of draws without a win. So if you want to know when Lotto is at a 5x rollover the app can help.
Reminder to Buy Tickets
Make sure you never forget to pick your lucky numbers and miss out on a lottery win. Receive an alert to buy your entries before each draw.
Special Events
Many UK lotteries have special draws throughout the year which offer bigger, or additional prizes. For example, Superdraws in EuroMillions. Turning on these notifications will let you know everytime a special event is scheduled
Clear instructions on how to ensure the lottery alerts appear on your phone and how to adjust the way in which they are displayed are also provided within the app. For more details on using other features, visit the iPhone Help page.
Other Lottery Alerts
When you play Lotto, EuroMillions or Thunderball as part of an online syndicate, you receive a notifications to your registered email address if you are due a prize. The message will advise you to check your player account to find out how much you have won. There is a similar system in place for those who buy individual lottery tickets online. Some lottery services also offer alerts via SMS when the latest results are announced.