Lottery Alerts
Lottery Alerts
Lottery alerts tell you when the latest results are in, whether you have won a big lottery prize and when special events, such as big rollovers, Superdraws and multiple raffle draws, will be scheduled. This information is sent directly to the notification centre of your phone so you are always in the loop wherever you are. Lottery alerts also come in the form of emails and texts, offering important information about your tickets and your favourite draw games.
Lottery Alerts from the Lottery.co.uk iPhone App
The Lottery.co.uk iPhone app allows you to customise the lottery alerts you receive, meaning you can be among the first to find out when the draw results are ready to view. You don't need to be tied to your desktop to discover if you are a Lotto, EuroMillions, Thunderball or Lotto HotPicks winner; you will receive the good news on your smartphone wherever you are.
You can choose to receive notifications when the balls are drawn and the prize breakdowns are published for some or all of the weekly draws, as well as special alerts for when the jackpot reaches a certain value or when a specified number of rollovers has occurred. The app also lets you set a reminder to buy tickets so you never miss out on a chance to change your life forever.
How to Set Up a Lottery Alert
Setting up lottery alerts on the Lottery.co.uk iPhone app is simple.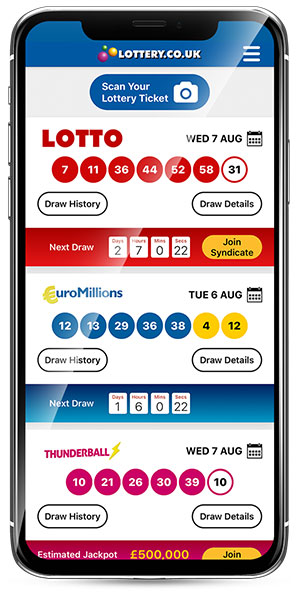 Start by tapping the 'More' button on the bottom menu.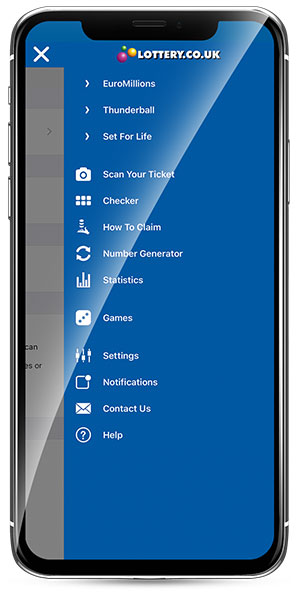 Then click 'Notifications'.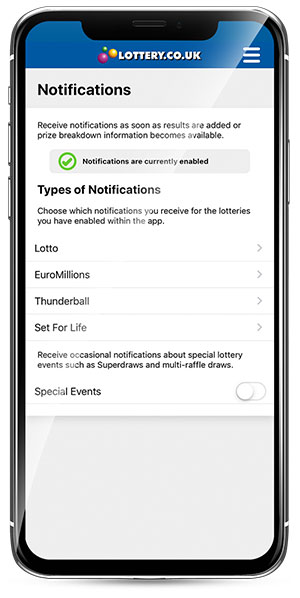 From there, you can choose the lotteries in which you are interested.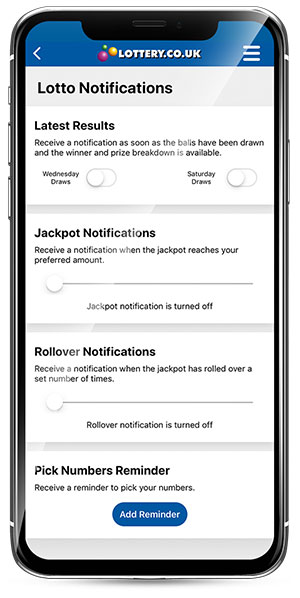 Then, you can choose the alerts you would like to receive.
The app also provides clear instructions on how to ensure the lottery alerts appear on your phone and how to adjust the way in which they are displayed. For more details on using the features of the Lottery.co.uk iPhone app, visit the iPhone Help page.
Other Lottery Alerts
When you play Lotto, EuroMillions or Thunderball as part of an online syndicate through the Buy Tickets page, you receive a lottery alert to your registered email address if you are due a prize. The message will advise you to check your player account to find out how much you have won. There is a similar system in place for those who buy individual lottery tickets online. Some lottery services also offer alerts via SMS when the latest results are announced.