Largest EuroMillions Jackpots Of All Time – Top 10
Largest EuroMillions Jackpots Of All Time – Top 10

Updated: Tuesday 12th November 2019
Since the first draw on Friday 13th February 2004, EuroMillions has delighted hundreds of millions of ticket holders by giving away billions of pounds worth of prizes. The game, which was originally played once a week by participants in France, Spain and the UK, has evolved a lot over the years, with players in nine nations across the continent now taking part in two draws every single week.
EuroMillions fans are often treated to Mega Week, Superdraws and massive jackpots, with sums able to skyrocket to as much as €190 million in relatively short periods of time. So with this in mind, which players have had the honour of claiming the largest prizes in the history of this popular pan-European game?
Here are the top 10 largest EuroMillions jackpots listed below: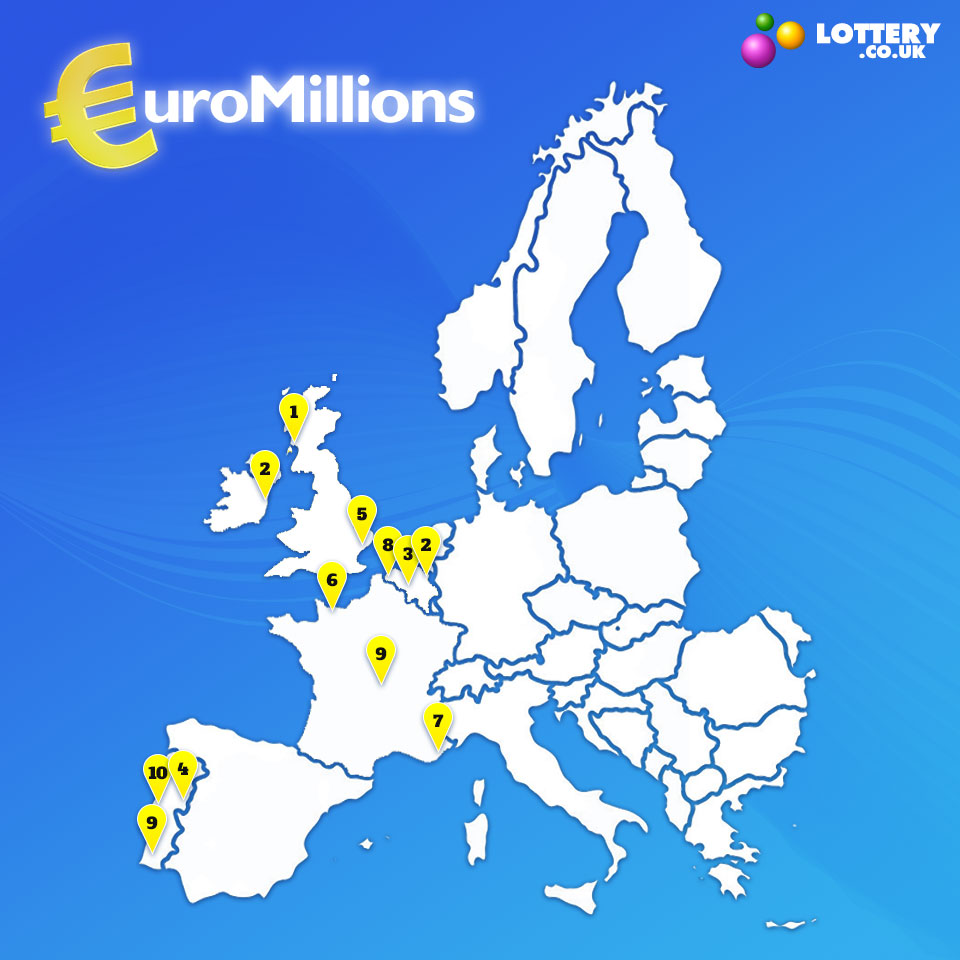 1. £170.8 Million (€190 Million) - Spain
A Superdraw on Friday 15th September 2017 saw the jackpot leap to a guaranteed €130 million (£114.5 million), however, the jackpot went unclaimed on the night. Following a further five rollovers, the jackpot cap of €190 million was struck for the third time in the game's history, before the top prize was claimed at the sixth attempt in the draw on Friday 6th October by a Spanish ticket holder from Gran Canaria.
2. £161.6 Million (€185 Million) - UK
The top prize had hit its €185 million jackpot cap when Colin and Chris Weir from Largs in Ayrshire pocketed a £161.6 million fortune. Benefitting from a favourable exchange rate, the Scottish couple became the winners of the biggest lottery prize in UK history. The pair have since risen to prominence for their financial backing of Scottish Premiership side Partick Thistle and their numerous donations to the Scottish National Party.
3. £159.5 Million (€187.9 Million) – Ireland & Belgium
A EuroMillions prize of £159.5 million was won on 25th June 2013 when two players correctly matched all seven numbers to share the sizeable sum. The ticket holders, who were from Limburg in Belgium and Dublin in Ireland, each received a £79.7 million share of the jackpot.
4. £153.3 Million (€168 Million) – Belgium
A player from the Schaerbeek region of Brussels-Capital in Belgium successfully claimed a €168 million prize on Tuesday 11th October 2016. Despite wishing to remain anonymous, the man, who was described as being 'friendly', revealed to reporters that he loved football, the films of Robert De Niro and cooking with fish, and would be using his win to help 'people in need'.
5. £149.7 Million (€190 Million) - Portugal
On Friday 24th October 2014, an anonymous ticket holder from Castelo Branco in central Portugal became the second player to taste success at the €190 million jackpot cap as they won one of the largest EuroMillions prizes in history. The player landed the game's top prize after a run of five rollovers that originated with a Superdraw on Friday 3rd October.
6. £148.6 Million (€190 Million) - UK
Adrian and Gillian Bayford from Haverhill in Suffolk currently hold the joint record for the biggest EuroMillions win in Euros after winning €190 million, which worked out at £148.6 million on Friday 10th August 2012. The stronger pound at the time meant the Bayfords, whose win came after the jackpot cap had been activated in the previous draw, walked away with more than £10 million less than Colin and Chris Weir when converted from the game's base currency. Never one to be far from the headlines, Adrian Bayford recently used a slice of his tremendous fortune to open a memorabilia shop dedicated to movies and music.
7. £140.8 Million (€162.2 Million) - France
A French ticket holder collected £140.8 million on Tuesday 13th September 2011 after matching the numbers 9, 28, 30, 32 49 and the Lucky Stars 9 and 10. The jackpot had been rolling over for 12 draws before the fortuitous prize winner purchased their winning ticket from the department of Calvados.
8. £136.1 Million (€169.8 Million) - France
On Tuesday 13th November 2013, an anonymous ticket holder correctly predicted all seven numbers in the 537th EuroMillions draw to walk away with a prize worth £136.1 million. Described as a family man, the French winner, reportedly from Nice, revealed he wanted to spend 'several million Euros' setting up a charitable foundation for community projects throughout the country. He also instantly became the 221st richest person in France.
9. £134.8 Million (€153.8 Million) - Belgium
The top prize had rolled over for 14 consecutive draws before a £134.8 million jackpot was won by a Belgian player on Friday 2nd June 2017. Upon collecting his prize, the lucky Quick Pick ticket holder, who matched the numbers 8, 10, 24, 33, 42 and Lucky Stars 3 and 9, revealed that he enjoyed DIY, walking, cycling and the Al Pacino film Any Given Sunday. The married man also provided a message of hope to his fellow EuroMillions players, stating: "Happiness is really where you least expect it."
10. £134 Million (€183.5 Million) – France & Portugal
A prize of £134 million was shared between three ticket holders in the draw on Friday 3rd February 2006. The two French players and one entrant from Portugal opted to remain anonymous as they each walked away with over £44.6 million.
Published: Monday 5th June 2017
Lottery News
News Archive