Play Powerball
Powerball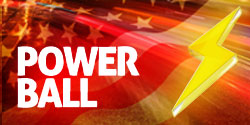 Powerball is a multi-state lottery that is currently played in 44 US states, the U.S. Virgin Islands, Washington D.C. and Puerto Rico. The game regularly offers nine-figure jackpots that are either paid out in 30 instalments (one immediate payment and 29 annual payments) or in one reduced lump sum.
Powerball is a US lottery which holds the record for offering the largest jackpot in history, having grown to a staggering US$1.58 billion in January 2016. The game is played in 44 states, the U.S. Virgin Islands, Washington D.C. and Puerto Rico, but the fact that the top prize regularly reaches nine figures has made it a worldwide phenomenon and you can now play Powerball from any country.
How To Play
Powerball draws are held every Wednesday and Saturday evening, with players required to select five main numbers between 1 and 69 and one Powerball from 1 to 26.
There is also the option to select Power Play for an additional fee. A Power Play number of either 2, 3, 4, 5 or 10 is drawn before the main game and non-jackpot prizes are multiplied by that amount. The exception is the second-tier prize of US$1 million, which is capped at US$2 million for Power Play no matter which ball is drawn.
Players can win prizes just by matching the Powerball, while the jackpot is given away if anyone matches all five main numbers plus the Powerball. The top prize starts at $40 million and rolls over when it is not won.
US players can buy tickets from retailers in authorised participating states or, in some cases, take part online. Powerball fans from outside the US are able to win all the same prizes by choosing numbers online through sites such as Jackpot.com. Rather than buying tickets, it is a case of betting on the results, and you just have to select your game, pick your numbers and decide how many lines to enter.
Powerball Odds
The odds of winning the Powerball jackpot are 1 in 292.2 million, but the chances of winning any prize are 1 in 24.87. Here are the odds of winning in each of the Powerball prize tiers.
Matched
Odds of Winning
Prize
Power Play x2
Power Play x3
Power Play x4
Power Play x5
Power Play x10*
5 main numbers + Powerball
1 in 292,201,338
Jackpot
N/A
N/A
N/A
N/A
N/A
5 main numbers
1 in 11,688,053
$1 million
$2 million
$2 million
$2 million
$2 million
$2 million
4 main numbers + Powerball
1 in 913,129
$50,000
$100,000
$150,000
$200,000
$250,000
$500,000
4 main numbers
1 in 36,525
$100
$200
$300
$400
$500
$1,000
3 main numbers + Powerball
1 in 14,494
$100
$200
$300
$400
$500
$1,000
3 main numbers
1 in 579
$7
$14
$21
$28
$35
$70
2 main numbers + Powerball
1 in 701
$7
$14
$21
$28
$35
$70
1 main number + Powerball
1 in 91
$4
$8
$12
$16
$20
$40
Powerball only
1 in 38
$3
$6
$9
$12
$16
$20
Approx. overall odds of winning a prize: 1 in 24
*The Power Play x 10 only applies when the advertised jackpot is $150 million is less.
Powerball Jackpots
Powerball often creates huge jackpots, the biggest of which was $1.58 billion, shared by the Nickel 95 Trust from Florida, Tennesseeís John and Lisa Robinson and Marvin and Mae Acosta from California on Wednesday 13th January 2016. Each of the winning tickets received $528.8 million, or a cash payment of $327.8 million.
Another record was set on 23rd August 2017, this time for the largest jackpot won on a single ticket, when Mavis Wanczyk from Massachusetts scooped $758.7 million. She came forward the very next day, having already quit her job as a hospital worker.
The Fortune Cookie Incident
In March 2005, lottery officials became suspicious after an unusually large number of players matched five numbers correctly to win in the second prize tier. They suspected fraud or a glitch in the reporting software, but it transpired that all 110 successful ticket holders had used the numbers that they had found printed in fortune cookies made by a company in New York.
Unfortunately for the employees at the Wonton Food Inc. factory, none of them played the numbers because New York didnít take part in Powerball at the time.