Powerball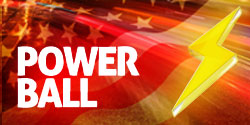 Powerball is a multi-state lottery that is currently played in 44 US states, the U.S. Virgin Islands, Washington D.C. and Puerto Rico. The game regularly offers nine-figure jackpots that are either paid out in 30 instalments (one immediate payment and 29 annual payments) or in one reduced lump sum.
Players select five main numbers between 1 and 69 plus one Powerball from 1 to 26 and must match them all to win the jackpot, which starts at a minimum of US$40 million. Powerball takes place on Wednesday and Saturday evenings, and if there is no top prize winner the entire sum rolls over and increases in value for the next draw.
Prizes are awarded in nine different tiers – the following table provides the odds of winning each prize:
Matched
Odds of Winning
Lowest Ever Prize Amount
Highest Ever Prize Amount
Average Prize Amount Per Draw
Lowest Ever Winners
Highest Ever Winners
Average Winners Per Draw
5 main numbers + Powerball
1 in 292,201,338
$2,000,000
$949,800,000
$62,001,613
0
4
0.1
5 main numbers
1 in 11,688,053.52
$200,000
$2,000,000
$954,622
0
73
3.2
4 main numbers + Powerball
1 in 913,129.18
$10,000
$50,000
$21,429
2
827
27
4 main numbers
1 in 36,525.16
$100.00
$708.00
$101.02
180
20,544
884
3 main numbers + Powerball
1 in 14,494.11
$100.00
$100.00
$100.00
479
47,685
1,565
3 main numbers
1 in 579.76
$7.00
$7.00
$7.00
11,887
1,164,124
48,218
2 main numbers + Powerball
1 in 701.32
$7.00
$7.00
$7.00
10,526
895,097
27,846
1 main number + Powerball
1 in 91.97
$4.00
$4.00
$4.00
69,793
6,343,237
187,355
Powerball only
1 in 38.32
$3.00
$4.00
$3.94
0
14,595,721
400,248
Approx. overall odds of winning a prize: 1 in 24.87
Players have the opportunity to multiply any non-jackpot winning prize by selecting Power Play for an additional fee. A Power Play number of either 2, 3, 4, 5 or 10 is drawn at the end of the main game and any ticket matching some of the winning numbers will see their prize multiplied by that amount. The 10x feature is only applied when the advertised jackpot is less than US$150 million. The exception is the second-tier prize of US$1 million, which is capped at US$2 million for Power Play no matter which ball is drawn.
Powerball Jackpots
Powerball often creates huge jackpots, the biggest of which was $1.58 billion, shared by the Nickel 95 Trust from Florida, Tennessee's John and Lisa Robinson and Marvin and Mae Acosta from California on Wednesday 13th January 2016. Each of the winning tickets received $528.8 million, or a cash payment of $327.8 million.
The previous biggest prize won was $590.5 million, claimed by Gloria MacKenzie, an 84-year-old woman from Florida, on Saturday 18th May 2013. MacKenzie chose to take the cash option of $370.9 million before taxes.
The Fortune Cookie Incident
In March 2005, lottery officials became suspicious after an unusually large number of players matched five numbers correctly to win in the second prize tier. They suspected fraud or a glitch in the reporting software, but it transpired that all 110 successful ticket holders had used the numbers that they had found printed in fortune cookies made by a company in New York.
Unfortunately for the employees at the Wonton Food Inc. factory, none of them played the numbers because New York didn't take part in Powerball at the time.
Powerball and other Lotteries
American states used to have to exclusively offer either Powerball or Mega Millions to their customers but many states have been able to offer both lottery games since the start of 2010.
Outside of the USA, Italy's SuperEnalotto is also known for massive jackpots akin to those found in EuroMillions.