Lottery.co.uk Launches New Lottery Results App
Lottery.co.uk Launches New Lottery Results App

Updated: Tuesday 12th November 2019
Lottery.co.uk has introduced a new Lottery Results app to make it even easier to check your numbers and find the results that you want. Whether you've set your sights on the latest EuroMillions jackpot or a big Lotto win, the app has been built with your interests in mind.
It is available on iOS and Android devices and can be downloaded for free right now. Find out more about the apps and how you can get lottery results at the touch of a button.
App Features
The new app is the ideal tool for any lottery player. It shows the winning numbers for UK National Lottery draws - Lotto, EuroMillions, Thunderball, Set For LIfe, Lotto HotPicks and EuroMillions HotPicks - as soon as they have happened. You can also find a comprehensive archive of results for all of these games.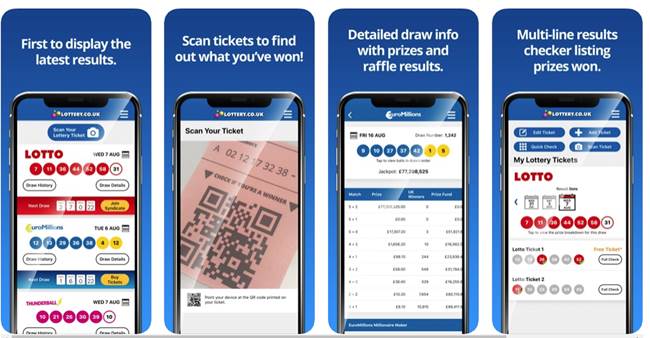 It is the new features that really make the app stand out, though, with a Ticket Scanner now in place to make it even simpler to find out if you are a winner. You just need to tap 'Scan Your Ticket' and point your device at the QR code on your ticket. The QR code is the square box located under where it says 'check if you're a winner'.
The Scanner allows you to see whether you have won a prize straight away, even if the prize amounts from the draw have not yet been confirmed.
You can also customise the new app to make it meet your needs. Whether you only wish to receive notifications about a particular game or want to be kept in the loop when a special event has been announced, you are in control of which information comes your way.
To customise the app, find 'Notifications' from the menu and select the games of your choice. You can choose to receive notifications for particular draw days and will then be alerted as soon as the balls have been drawn and when the prize breakdown is released. Jackpot notifications let you know when the top prize hits a certain amount, while you can also select to be notified when the jackpot has rolled over a set number of times
There are a host of other features on the app, such as the Checker that allows you to enter the numbers you have played to see if you have won any prizes. Once you have these saved, you can just come back to them in future to check results even quicker.
The Random Number Generator helps you to create a new line in an instant if you are struggling to think of which numbers to play, while there are in-depth Statistics so that you can analyse all the most frequently drawn and overdue numbers from your favourite games.
Download The App
Downloading the app could not be easier. It is available on iPhone, iPad, iPod Touch, and Android devices for free. To download the app, tap the image below or use the QR code if you are on desktop - it's the perfect practice before you use the Ticket Scanner!

Scan the QR code with your phone and you can have the app downloaded within a few seconds, allowing you to check lottery results straight away.
Once you have the app on your device, you can start scanning tickets or look at the latest winning numbers. With draws held throughout the week, there is always a chance to win big prizes just around the corner.
You need to claim prizes within 180 days of a draw taking place, and with the new app it has never been easier to find out the results!
Published: Thursday 19th September 2019
Lottery News
News Archive