Thunderball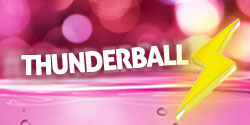 The Thunderball Play Slip has 5 boards on it. Each board consists of 2 boxes. One box (marked 'SELECT FIVE') contains the numbers 1 to 39* from which you select five numbers. The other box (marked 'SELECT ONE') contains the Thunderball numbers 1 to 14 from which you select one number. If you'd like the terminal to choose your Thunderball numbers at random, mark the 'Lucky Dip' box on each of those boards on wish you wish to play 'Lucky Dip' or simply ask the retailer for a 'Lucky Dip'. (Note: You should not select a set of numbers and mark the 'Lucky Dip' box on the same board.) If you wish to make another Thunderball selection, use another board. Each board will cost you £1. Only use a pencil or a blue or black pen. Put a clear, bold, vertical line through each number you have chosen. If you make a mistake, mark the "void" box and use another board.
Choosing the number of weeks to play
On every Thunderball Play Slip, you'll see a section called 'No. of WEEKS' which lets you use the same set of numbers for up to eight weeks, starting with the next available draw. You must pay for your required number of weeks in advance.
Thunderball Results
When you've paid, the retailer will enter your selections into the terminal and give you a Thunderball ticket. You must check that the numbers you have selected, the number of weeks and the draw date(s) are correct, that the barcoded serial number is clearly readable and that the "void" box on your Thunderball ticket has not been marked. Then write your name and address on the back. Keep your ticket safe and don't lose it ! You'll need it to claim your prize, as it is the only proof that you are a winner. Check the latest Thunderball Results here.
How to win at Thunderball
The Thunderball draw differs from the main National Lottery Lotto draw - you only need to match the THUNDERBALL to win a prize!
Winning Numbers
Balls Matched
Prize
Odds of Winning
5 numbers + Thunderball
£500,000
1 in 8,060,598
5 numbers
£5,000
1 in 620,046
4 numbers + Thunderball
£250
1 in 47,415
4 numbers
£100
1 in 3,647
3 numbers + Thunderball
£20
1 in 1,437
3 numbers
£10
1 in 111
2 numbers + Thunderball
£10
1 in 135
1 number + Thunderball
£5
1 in 35
Thunderball only
£3
1 in 29
Approx. Overall Odds of Winning:
1 in 12
Claiming your Thunderball winnings
If your prize is up to £75, you can claim it in cash from any National Lottery On-Line retailer. All you've got to do is give them your winning ticket to validate through their Lottery terminal. The terminal will then produce a validation slip which will show the value of your prize. Check this against the amount paid out and return it to the retailer. At their discretion, all retailers can pay prizes up to £200 in cash. Some National Lottery retailers are authorised to pay prizes of up to £500. National Lottery Post Offices will pay out prizes of up to £10,000, though prizes over £500 will be paid by cheque.
Anything above £10,000 must be claimed in person from a National Lottery Regional Centre and will be paid by cheque (no cash is held on these premises). If you match the five main numbers and the Thunderball number, please call The National Lottery Line immediately for assistance in claiming your prize. Ring 0845 9 100 000 (calls normally charged at local rate in the UK except for mobile phones).
To claim any prize above £500, you will have to complete a Prize Claim Form (available at National Lottery retailers or by phoning The National Lottery Line) and give proof of your identity. If you are claiming a large prize, additional checks on your winning ticket may be conducted. All National Lottery prizes must be claimed by 11.00pm, 180 days after the winning draw. You can also, at your own risk, claim your winnings up to £10,000 by post. Send your winning ticket and the completed Prize Claim Form to this address: The National Lottery, Accounts Dept., P.O. Box 287, Watford WD1 8TT
*Thunderball Changes
The rules of Thunderball changed on 9th May 2010. Prior to this date, and since the first Thunderball draw on 12th June 1999, the draw had been a pick 5 from 34 format. During those days there was no prize for just matching the Thunderball alone and the jackpot was only £250,000. After 9th May 2010 the draw became pick 5 from 39 and the jackpot doubled, although the chances of winning more than halved.