Have Halloween Fun With The Lotto Number Generator
Have Halloween Fun With The Lotto Number Generator

Updated: Wednesday 9th April 2014
You've heard of things going bump in the night… well, something is going bump on our website! If you like a hassle free lucky dip or just don't like the pressure of choosing those potentially millionaire making numbers, then you have probably used our automatic number generator. However, something seems to have gone wrong… it seems to be possessed! It must be something to do with Halloween, which is just around the corner!
For now until Halloween when you visit our Number Generator game on Lottery.co.uk you will be treated to a special Halloween game which you can play in order to generate those gruesome numbers. Against a backdrop of scary ghouls and cackling bats your job is to get six of the bouncing pumpkins in your gun sites and shoot to pop! The possessed pumpkins which bound and leap across the game screen can be fast – which makes it even trickier and even more fun to choose those numbers! As you take aim, fire and hit each pumpkin you will also be treated to a gruesome splatter as the pumpkin explodes, and you must shoot six – the amount of numbers required for the UK Lotto – before you can move on to choose your next line.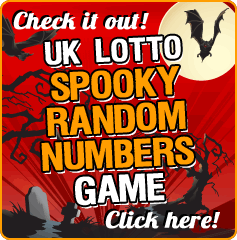 Spooky, eh? So, if you fancy the chance to be treated, not tricked, courtesy of the UK Lotto draw on Halloween next week, then why not try our super fun Happy Halloween Lotto Numbers game, and see if you can win a scarily good jackpot – with a little help from the undead!
Written by Tony Sharpe
Published: Tuesday 23rd October 2012
Lottery News
News Archive