Mega Sena
Mega Sena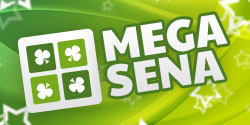 Mega Sena is a Brazilian lottery which is drawn on Wednesdays and Saturdays and raises large sums of money every year for programmes and projects run by the government, as well as offering players the chance to win great cash prizes.
Two machines are used to draw each number, the first of which picks a digit between 0 and 5 and the second of which draws numbers from 0 to 9. They are then combined to create a new two digit number. This happens until there are six unique numbers; if both machines draw 0, then it is counted as 60.
Lottery fans around the world can now join in the excitement of playing Mega Sena and winning huge amounts of money. Click on the buy tickets button to get involved.
Players can pick between six and 15 numbers from 1 to 60 on their ticket slips, with each additional number played increasing both the ticket price and the chances of winning a prize. Prizes are awarded for matching four or more balls. The jackpot is won by matching all six numbers, which often converts into the tens of millions of pounds. Here are the odds of winning in each tier:
| Match | Odds of Winning | Percentage of Prize Fund (est.) |
| --- | --- | --- |
| 6 of 6 | 1 in 50,063,860 | 35% |
| 5 of 6 | 1 in 154,518 | 19% |
| 4 of 6 | 1 in 2,332 | 19% |
When Brazilians celebrate, they do it in style, and every New Year's Eve there is a special draw, called the Mega da Virada, which offers a vastly increased jackpot accumulated from five percent of the prize fund for every Mega Sena draw held throughout the year.