Play Mega Sena
Mega Sena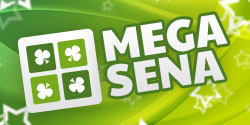 Mega Sena is a Brazilian lottery that launched in March 1996, and is one of South Americaís biggest games. Draws are held every Wednesday and Saturday evenings at 8pm Brasilia time (UTC -3), and the game regularly offers players the chance to win large jackpots, with some reaching nine figures.
This lottery also gains interest outside Brazil, and itís now possible to play and win Mega Sena prizes from anywhere in the world.
How to Play
Players need to choose six numbers between 1 and 60 or they can opt for a Surpresinha ticket, which randomly selects a line of numbers for them. They also have the choice of a combination bet, where they can play seven to 15 numbers on their ticket, paying for each combination of six numbers within that, to increase their odds of winning. For example, they could choose eight numbers on the ticket instead of the standard six, giving them 28 combinations to win.
Two machines are used to draw each number, the first of which picks a digit between 0 and 5 and the second of which draws numbers from 0 to 9. They are then combined to create a new two digit number. This happens until there are six unique numbers; if both machines draw 0, then it is counted as 60.
In Brazil, players can take part online or by purchasing tickets from an authorised retailer. Mega Sena fans outside Brazil can play with lottery betting services such as Jackpot.com, where you can choose your numbers online and win the same sized prizes offered in the main game. Itís easy to do; just choose your numbers, decide how many lines you want, and your tickets and winnings are stored in your account.
Mega Sena Odds
The overall odds of winning any prize in the Mega Sena are 1 in 2,298 on a standard ticket, with the chances of matching 6 numbers to win the jackpot standing at 1 in 50,063,860.
| Match | Odds of Winning | Percentage of Prize Fund (est.) |
| --- | --- | --- |
| 6 of 6 | 1 in 50,063,860 | 35% |
| 5 of 6 | 1 in 154,518 | 19% |
| 4 of 6 | 1 in 2,332 | 19% |
22% of the prize fund is kept aside for a special game which is held every 5 draws, offering a larger than normal jackpot. An additional 5% of each drawís prize fund is kept for the annual New Year draw, Mega da Virada
Mega da Virada
The Mega da Virada is a special event held on New Yearís Eve each year, and it is guaranteed to offer massive jackpots, making it a massive hit with Brazilians. The largest ever jackpot offered was in 2014, when it reached an impressive R$263.29M (£59.5M).
The game is played exactly like Mega Sena, with players needing to match the six main numbers to win the jackpot, and prizes for matching five and four numbers also up for grabs. The tickets for this draw go on sale around the beginning of December.