Lotto Raffle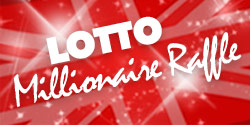 The Lotto Raffle was launched on Saturday 5th October 2013 as the newest addition to the UK Lottery portfolio. The Raffle is played alongside the main UK Lotto game and guarantees 50 winners of £20,000 in every draw. In order to win the prize, players must exactly match the raffle code printed on their ticket to one of the codes drawn on that date, just like when playing the EuroMillions Millionaire Maker.
Players do not choose their raffle number: instead a code is automatically generated for each line of UK Lotto numbers bought. All codes are then entered into the draw, where 50 are picked at random to win a £20,000 prize.
The code is made up of a four-letter colour followed by eight digits, for example "AQUA 1234 5678". Lotto Raffle can only be played alongside the UK Lotto, so in order to be in with a chance of winning the £20,000 prize you must have bought a lottery ticket – this effectively gives you two games for the price of one!
Lotto Raffle is changing!
From October 2015, Lotto and Lotto Raffle will be making some changes. To find out more, visit the
Changes to Lotto
page.
Lotto Raffle Results
Although there are usually 50 Lotto Raffle winners, there are also occasional special events with increased numbers of winners, such as the two draws held to celebrate the launch of the game which saw 1,000 winning Raffle codes, each winning £20,000.
The most recent results for the game can be found on the Lotto Raffle Results Page.
How to Play Lotto Raffle
Each Lotto Raffle entry comes included with every completed board on a UK Lotto ticket. Players do not need to opt in, tick a box or choose more numbers, as they will automatically receive one entry to the raffle for each line of UK Lotto numbers they play.
To read more about playing the UK Lotto click here.