Irish Lottery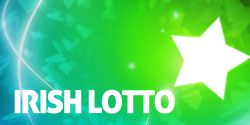 The Irish Lottery was launched in March 1987 with the aim of raising funds for good causes throughout the Republic of Ireland. Some €2.85 billion has been raised so far, with €245 million being raised in 2007 alone. A €6 million re-branding exercise has recently given the Irish Lottery a facelift, with the introduction of a new logo and a revamped web site that allows players to buy tickets online.
In the early days of the Irish Lottery, the main focus was on scratch cards. Although these continue to be popular, the main game today is the Lotto, a 6 from 45 draw game that gives players a 1 in 8,145,060 of winning the top prize. This is worth at least €2 million and is often more thanks to the jackpoty fund rolling over to the next draw when no winner is found. The Lotto game takes place every Wednesday and Saturday and entries cost €3 for two lines of six numbers. Players must be aged 18 or over to participate legally.
Play Irish Lottery Online


Next Irish Lotto Jackpot
€2,500,000
Saturday 4th July 2015
Time left to buy tickets:
Whilst some lotteries pay out their jackpots in piecemeal fashion, the Irish Lottery jackpot is paid out as a single and tax-free lump sum. However, winners have to be quick to claim their prizes, because tickets are valid for just 90 days from the date of the draw, which is half the length of time that UK National Lottery players have to make their claims.
The Irish Lotto
Like the UK Lotto, the Irish Lotto game offers several prize levels (referred to as Divisions) below the jackpot. The minimum prize of €5 goes to players matching three main numbers. Match more numbers and players obviously win bigger prizes. Numbers can be selected by the players themselves or by taking advantage of a Quick Pick option – basically the same as opting for Lucky Dip when playing the UK Lotto.
As we said earlier, the rollover rule makes it possible for the Irish Lottery jackpot to be worth many times the €2 million base level. The biggest Irish Lottery jackpot so far was worth €18,963,441, and was won by a syndicate of sixteen players who all worked at a quarry and concrete plant in County Carlow. Check your Irish Lottery results online at lottery.co.uk